Growing up in the church, I have often heard Peter referenced as one who failed. He lost faith when he removed his gaze from Jesus and sunk into the water. He denied the Christ three times on the day of our Savior's crucifixion. Yes, he did many great things too, but for some reason he was, more often than not, a go-to for someone who just didn't get it right. As someone to be looked to as warning against how even when you think you're strong, you can always fail if you allow your human weaknesses to compromise your resolve. I remember one lesson in particular when my teacher read the following from a talk that Thomas S. Monson gave in General Conference:
"Doubting, disbelieving, impetuous Peter was to remember the night that Jesus was led away to the high priest. Present were the priests whose greed and selfishness the Master had reproved, the elders whose hypocrisy he had branded, the scribes whose ignorance he had exposed. And then there were the Sadducees, considered the most cruel and dangerous opponents. This was the night that the throng "began to spit on [the Savior], and to cover his face, … to buffet him, … and the servants did strike him with the palms of their hands." (Mark 14:65)
Where was Peter, who had promised to die with him and never to deny him?"1
Something about the phrasing of "doubting, disbelieving, impetuous Peter" just stayed with me for a long time. I mean really, if the legacy of even Peter can include such disparaging words and stories of failure when it mattered most–what hope do any of us have?
On my mission, I became more intimately acquainted with the people found in the scriptures than I ever had before. I am naturally a scholastic person that enjoys studying, so it was fun to really take on the scriptures in a more advanced and in-depth manner. During my studies, I got to know Peter in a whole new way. I enjoy how often he is mentioned by name when no other apostles are; it stuck out to me. I could just tell that he was unique and had a particularly close relationship with Christ. There are moments in nearly every story involving Peter that just struck me as odd, however. The incident with walking on the water, found in Matthew 14, took me by surprise.
28 And Peter answered him and said, Lord, if it be thou, bid me come unto thee on the water.
29 And he said, Come. And when Peter was come down out of the ship, he walked on the water, to go to Jesus.
30 But when he saw the wind boisterous, he was afraid; and beginning to sink, he cried, saying, Lord, save me.
31 And immediately Jesus stretched forth his hand, and caught him, and said unto him, O thou of little faith, wherefore didst thou doubt?
I really love Peter here. He's the only one who was saw Christ and immediately wanted to meet him in the water. He KNEW he could, he trusted Christ that much. And he does it, he actually walks on the water. This makes him one of two people in the history of the world who have done such a feat. When he becomes overwhelmed by the sea and starts to sink, it's just so strange to me that Christ's words are "O thou of little faith, wherefore didst thou doubt?". Where is the acknowledgment for having the faith to join him there, for actually walking on the water? Why the focus on the failure when such an amazing act of love and faith preceded it? I'd like to think that perhaps Jesus was speaking facetiously here, like pals would. Either way, Peter truly excelled and did something amazing here, and that's the part of the story that stands out to me the most.
I think one of the more touching Peter moments is during the washing of the feet found in John 13. This is just such a beautiful demonstration of Peter putting himself out there and doing all he can to understand Christ and build an intimate relationship with Him.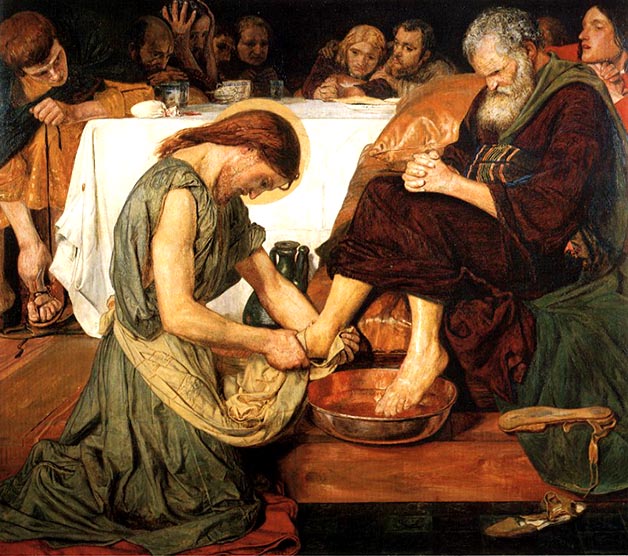 Peter is completely overwhelmed with humility at the fact that the Savior is about to wash his feet; he asks Jesus why He is doing such a submissive act. Jesus tells him that Peter doesn't understand now, but will after. When Peter protests yet again at the Savior submitting himself at his feet, Jesus tells him that without this washing, Peter cannot be truly part of Jesus; at which point Peter says: "Lord, not my feet only, but also my hands and my head". That just kills me. Peter is so willing; and he isn't about to just let this ordinance pass without trying to understand it more fully and it is clear that he doesn't want to do wrong by Jesus. Through back and forths like this between the two of them, I just started to get a more insightful understanding of the uniqueness of their friendship.
Later in this same chapter, I think the most telling passage of scripture happens between Jesus and Peter.
36 Simon Peter said unto him, Lord, whither goest thou? Jesus answered him, Whither I go, thou canst not follow me now; but thou shalt follow me afterwards.
37 Peter said unto him, Lord, why cannot I follow thee now? I will lay down my life for thy sake.
38 Jesus answered him, Wilt thou lay down thy life for my sake? Verily, verily, I say unto thee, The cock shall not crow, till thou hast denied me thrice.
When Peter asks Jesus where he is going, Jesus distinctly tells Peter that he CAN'T follow him where he's going, not now. Peter insists that he would lay down his life for Jesus. What follows is usually interpreted as Jesus prophetically shutting Peter's gesture of love down as false, because he foresees Peter denying him. The more I've read the passages between Peter and Jesus though, I just don't read it that way. Peter just said he would follow Jesus, but Jesus tells him that he can't. I see a parallel structure here in the following part of this conversation, in Peter saying he will lay down his life for Jesus and Jesus is responding and telling Peter that he can't. He needs to deny Him if asked. Jesus knows that Peter needs to live, he has been given a huge responsibility in bearing Priesthood keys. He will continue on to be a foremost missionary and bring uncounted people to Christ; Peter will even perform miracles. Jesus knows that Peter above all the others is the one to entrust to carry on and I think this is based off of the unique faith and brave devotion he has shown the Savior in the past. Also, I think Jesus sees Peter as a friend; a friend he would not want to die for His sake. Perhaps Jesus was protecting Peter simply because he loved him. Here, I think Jesus is asking Peter to do the hardest thing of all: to deny Him when it matters most.
I think this is repeated again in John 18: 10-12 when the high priest's servants come to take Jesus away.
Peter, again being the only apostle to step forward at all, unsheathes his sword and cuts off the ear of a servant in an attempt to protect Jesus from being escorted away. Jesus looks at Peter and more or less scolds him, reminding him "the cup which my Father hath given me, shall I not drink it?"
So each time now that Peter has gone out of his way to profess that he will follow Jesus anywhere, or when he's tried to protect him from being hurt–he has been strictly told by Jesus that he cannot follow and that he cannot intervene. That's why the follow verses from Matthew 26 just tear up my heart so much.
62 And the high priest arose, and said unto him, Answerest thou nothing? what is it which these witness against thee?
63 But Jesus held his peace, And the high priest answered and said unto him, I adjure thee by the living God, that thou tell us whether thou be the Christ, the Son of God.
64 Jesus saith unto him, Thou hast said: nevertheless I say unto you, Hereafter shall ye see the Son of man sitting on the right hand of power, and coming in the clouds of heaven.
65 Then the high priest rent his clothes, saying, He hath spoken blasphemy; what further need have we of witnesses? behold, now ye have heard his blasphemy.
66 What think ye? They answered and said, He is guilty of death.
67 Then did they spit in his face, and buffeted him; and others smote him with the palms of their hands,
68 Saying, Prophesy unto us, thou Christ, Who is he that smote thee?
Peter is the only recorded apostle who follows Jesus to the court yard. Yes, Peter absolutely knows that Jesus is the savior of mankind, but to Peter– I sense that Jesus is also his friend. Someone he has walked with daily for the previous three years. Someone he witnessed on the mount of transfiguration. Someone he has learned from and shared with in so many ways. So here, for Peter, not only is he witnessing the scourge of his savior, but also of his intimate friend. He is standing aside and actually physically watching his dear friend be beaten and tormented in the most shameful way.
69 Now Peter sat without in the palace: and a damsel came unto him, saying, Thou also wast with Jesus of Galilee.
70 But he denied before them all, saying, I know not what thou sayest.
71 And when he was gone out into the porch, another maid saw him, and said unto them that were there, This fellow was also with Jesus of Nazareth.
72 And again he denied with an oath, I do not know the man.
73 And after a while came unto him they that stood by, and said to Peter, Surely thou also art one of them; for thy speech bewrayeth thee.
74 Then began he to curse and to swear, saying, I know not the man. And immediately the cock crew.
75 And Peter remembered the word of Jesus, which said unto him, Before the cock crow, thou shalt deny me thrice. And he went out, and wept bitterly.
I think two things happened here. One, I think that everything became too real to Peter. It's one thing to talk of what's to happen, but to actually witness it happening is completely different. To me, when people asked him if Jesus was his friend–perhaps it was just too hard to admit that yes, that person being tortured there, who is about to be brutally crucified, is dear to me.
Sometimes I think that vocally admitting the magnitude of what is about to happen can make the immensity of it break us. Peter denying Christ here isn't because he is turning his back on Christ, but it is because it is too hard to vocally acknowledge what is happening to his friend. Also, who are these women to Peter? How could they even understand what Jesus meant to him, who Jesus was, and what's about to happen if Peter answered "yes". The second thing happening here is that if Peter gave into the temptation to say yes, to proclaim his love for Jesus and do all he could to ensure people knew he was to follow in his footsteps–I assume the following words came to Peter's mind: "Whither I go, thou canst not follow me now". Peter knew he cannot follow, not now. Professing to be Christ's follower here could have gotten him killed right along with the Savior. When Peter had tried to defend Christ against the guards before, Jesus told him that he could not interfere with what needed to happen. This isn't about Peter or his feelings or wishes; this is about the mission of Christ. With all this in mind, I think Peter knew what he needed to do. He needed to deny Christ. Even if he was wrong in this assumption, I find beautiful sentiment in this denial. I personally see no need for shame here.
I think my favorite Peter moment follows the resurrection in John 21. Jesus is standing on the shore as the apostles are fishing. When Peter sees Jesus, he tears off his clothes, jumps into the water naked, swims to the shore, and runs to embrace Jesus. What do the other apostles do? They tidily hang out in the boat and row to shore. I think this is just so telling of what kind of friend Peter was, it really shows his complete and utter devotion to Jesus.
Upon seeing Peter again, Jesus never scolds him for denying Him previously. He doesn't rebuke him at all. Instead, He does exactly what a true Savior would do: allows Peter to say the words that Peter so desperately wanted to say the day of the crucifixion.
15 So when they had dined, Jesus saith to Simon Peter, Simon, son of Jonas, lovest thou me more than these? He saith unto him, Yea, Lord; thou knowest that I love thee. He saith unto him, Feed my lambs.
16 He saith to him again the second time, Simon, son of Jonas, lovest thou me? He saith unto him, Yea, Lord; thou knowest that I love thee. He saith unto him, Feed my sheep.
17 He saith unto him the third time, Simon, son of Jonas, lovest thou me? Peter was grieved because he said unto him the third time, Lovest thou me? And he said unto him, Lord, thou knowest all things; thou knowest that I love thee. Jesus saith unto him, Feed my sheep.
Why would Jesus ask Peter the exact same thing three times, if not for the sole purpose of matching the three times Peter had to deny Christ the day of the crucifixion? He allows Peter to rectify the denial, profess his love, and then reminds him of the purpose for which Peter had to deny him in the first place: Peter needs to feed His sheep.
Peter went on to do just that, he becomes a titan of a missionary. In Acts 4, his testimony is so compelling and fearless that his words cut into the hearts of the priests. Peter was so close to Christ and has learned so much from him that in Acts 9, Peter is even able to raise a woman named Tabitha from the dead. He goes on to testify and spread the message of Jesus throughout the land until the day of his death, when Peter was going to be crucified just as the Savior was. Out of respect for Jesus, Peter asked to be crucified upside down because he did not see himself as worthy of the same death as his Savior and friend, Jesus Christ.
Just as Peter has been described as "doubting, disbelieving, and impetuous" by many, despite having lived a remarkable life of faith, performing miracles, and bringing people to Christ; I think it happens too often that we fail to stop and consider what people's motives are when they do something that seems "wrong" or contradictory to what a true believer would do. Could it be, that like Peter, a person or a group of people's understanding of Christ is simply different than our own? Perhaps Christ has manifest a purpose to their actions that will bring forward new truths, regardless of how brazen or seemingly heretic their actions may seem.
Instead of taking the time to find out the purpose behind people's words or actions, or ever considering if perhaps they might know something that we ourselves do not yet understand–I think we all tend to just cling to the things that people have done "wrong" and allow it to completely diminish our interpretation of their testimony and also wipe out all the good they've done or will continue to do. Why else would the most told stories of Peter be that he sunk in the water because he lacked faith? Or that he denied the Christ? I think it is human nature to discredit people for their imperfections because it makes us feel better about our own.
I know I have done this with Joseph Smith and I need to strive to find more room in my scope of thought to understand that though there are many actions in his life may seem repugnant to me now, there's always the chance that I simply just don't understand what was actually happening.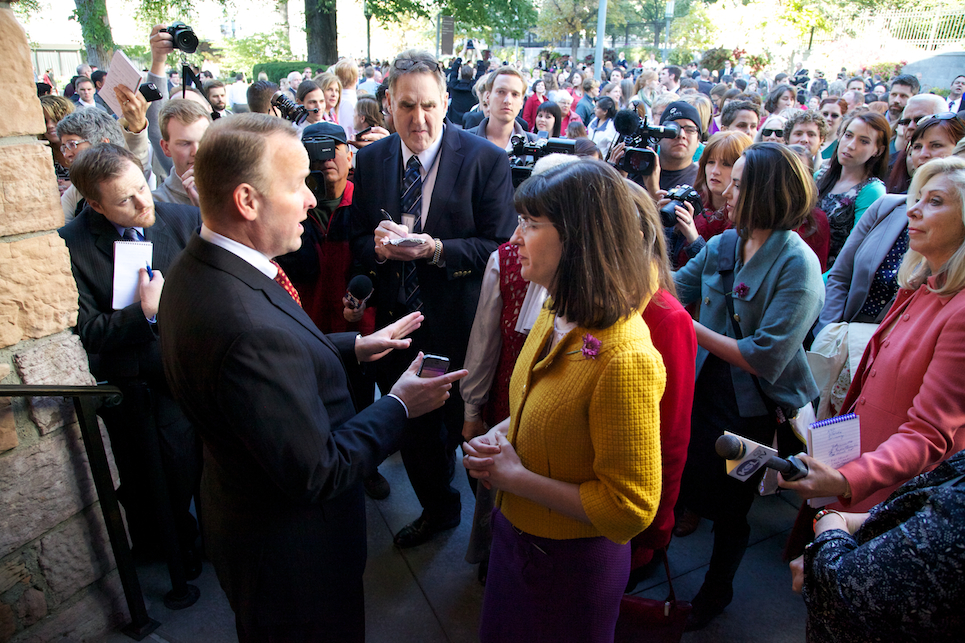 I think this continues on today with how alternate voices in the Mormon Church are treated by other Mormons. Feminists, historians, and LGBT people and their allies are continually called heretics and apostates. Could it be though that Christ is speaking to them? That they have a unique relationship with Him and are actually doing His will? It doesn't sound right because it simply isn't what we'd expect. But Jesus himself wasn't what the Jews expected him to be. He was actually the opposite of what their expectations were. He rebuked their set traditions and rules, he deplored their ecclesiastical leaders, he taught a higher law which at the time seemed quite heretical. And for these things, they crucified him. The mission of Christ far surpasses any other movement in Christianity or Mormonism at any time and I'm not trying to compare the directly in any way. I'm just trying to draw parallels from what we can learn by the story of Peter, the story of Christ, and how we can apply it to what is currently happening in our own spheres. The most important thing is that we never jump to conclusions about how people should act or what they should say and realize that we cannot see all ends. Even if alternate voices in the church are ultimately wrong, we lose nothing by loving them, by giving them room to speak openly, by trying to learn from how they came to their conclusions, and by making room for them in a Christ-like way.
It's my hope that today, the day in which Christians think about the crucifixion of Jesus Christ before his resurrection on Easter Sunday, we will take the time to remember Peter's personal friendship with Christ and try to replicate it in our own relationships. We need to step out of our comfort zones, to jump out of boats, and to try to walk on water, even if it means sinking. We need to be brave in following Christ in our own personal way even if it means being remembered for a perceived failure. We should also remember that Jesus himself was seen as rebellious, as not understanding doctrine, and was ridiculed and called a heretic in His day. It was simply that the world was not ready to let go their known traditions of the past, to admit they might have been wrong, or accept His message of replacing rules with unconditional love. So on this Good Friday, let's try to open our hearts and make room for all of God's children. Let's listen to their hurt, let's give them a place by our side as equals, and let's show unconditional love and have faith that Christ knows the true intents of all of us.
1)The Paths Jesus Walked by Thomas S. Monson. April 1974. https://www.lds.org/general-conference/1974/04/the-paths-jesus-walked?lang=eng&query=thomas+monson+peter